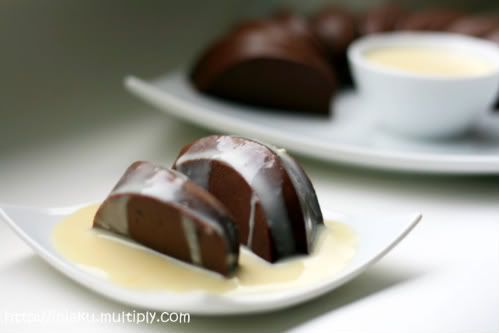 Chocolate Pudding Recipe Vanilla Vla
-how are you sobaterz? Previously I've given a special fried rice Recipe, this time I will give you the recipe Chocolate Custard Vanilla Vla is guaranteed. Chocolate Pudding is indeed very delicious if eaten anytime while being in the break. Sweet Chocolate Pudding flavors plus the taste Vla Vanilla makes us not want to stop eating Chocolate Pudding Vanilla Vla. The following Chocolate Pudding Recipes and how to make Vanilla Vla Pudding Chocolate Vla Vanilla.
Material Pudding:
1 packet gelatin (7 grams)
½ liters of pure milk
½ can of sweetened condensed milk white
2 yellow *** shake off with a little milk
50 Gr. sugar
2 tbsp cocoa powder
150 ml water
Vla: Materials
½ liter of fresh milk
½ can of sweetened condensed milk white
50 gr granulated sugar
100 ml evaporated milk
1 can white water (pake cans of sweetened condensed milk is used)
1/2 tsp vanilla
2 kunig *** dissolve with a bit of pure milk
4 TSP cornstarch dissolve with little milk is pure
How to make a pudding:
Mix all ingredients, mix and pudding boil.
After boiling, dicetakan. After cold simpen in refrigerator.
How to make the fla:
Mix of ingredients except cornstarch solution *** and the solution, then bring to a boil.
After boiling the new input solution *** & cornstarch while in stir quickly sampe. Immediately turn off the fire.
Stir slowly in order not clotted until smooth, or steam heat is up.
After cold simpen in refrigerator.
Serve chilled
Anda baru saja membaca artikel yang berkategori Chocolate / Custard / Vanilla dengan judul Chocolate Vanilla Vla Custard. Anda bisa bookmark halaman ini dengan URL http://musthofa10.blogspot.com/2011/03/chocolate-vanilla-vla-custard.html. Terima kasih!
Ditulis oleh:
Muhammad Azam
- Minggu, 27 Maret 2011